Our Premium Ice Fishing Bundle
Includes ECHOMAP™ Plus 72cv, 75cv, 75sv, or 95sv combos with up to 5 types of sonar: narrow beam Garmin CHIRP traditional, ClearVu down, SideVu, and a Panoptix PS22 transducer with LiveVü Forward and LiveVü Down
GT10HN-IF ice fishing transducer with Garmin CHIRP traditional sonar and narrow beam angle (8 to 16 degrees) for precise fish and jig detection
Choose preloaded LakeVü HD maps that provide industry-leading detail on more than 17,000 lakes
Ability to create custom combination screen to include flasher, map and Panoptix views
Rugged, portable carrying case fits all included parts and is perfect for ice fishing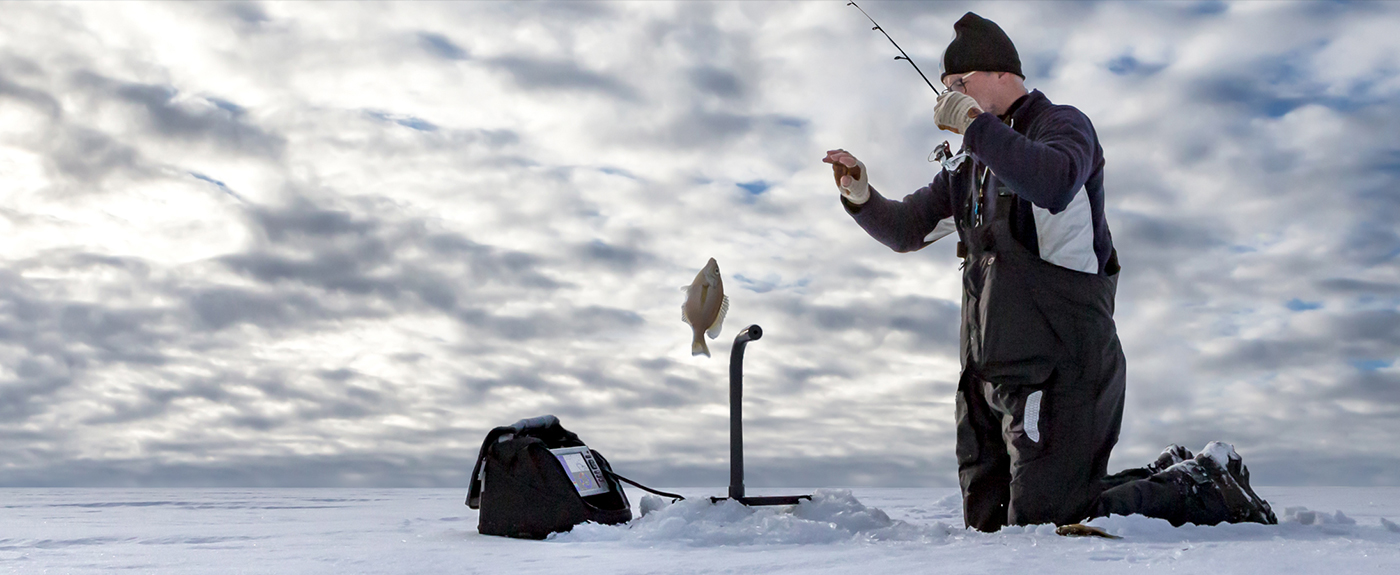 The bundle includes a swivel pole mount for the Panoptix transducer, 12Ah battery with charger, power cable, grommet and foam float — all in a convenient, glove-friendly portable bag.
The Panoptix ice fishing bundle will transform your ice fishing experience. It allows you to drill fewer holes to locate schools of fish swimming up to 100' horizontally around you and below the ice in real time.
Sonar Below the Ice
Drill fewer holes, and locate schools of fish under the ice in real time — with LiveVü Forward and LiveVü Down modes. See your lure as it sinks, relative to structure in the water. Watch the movement of fish — and their reactions to your bait — up to 100' horizontally around you, below the ice. Just mount Panoptix PS22-TR to the swivel pole mount, and choose your view.
CHIRP Clarity
Designed for ice fishing, Garmin CHIRP sonar provides clear bottom definition under the ice as well as crisp, clear and wide fish arches with excellent target separation. Instead of sending just 1 frequency, CHIRP sends a continuous sweep of frequencies, ranging from low to high, and then interprets them individually upon their returns.
Preloaded LakeVü HD Maps
These highly detailed freshwater maps include 17,000+ U.S. (or 13,500+ Canada) lakes, rivers and reservoirs — including more than 13,000 HD lakes with 1' contours, shoreline to shoreline. LakeVü HD gives you excellent detail of underwater features, plus Shallow Water Shading allows you to designate a minimum depth to help you avoid shallow waters. It even shows interstates, highways, general roads and bridges, designated fishing areas, docks, boat ramps, marinas and campgrounds.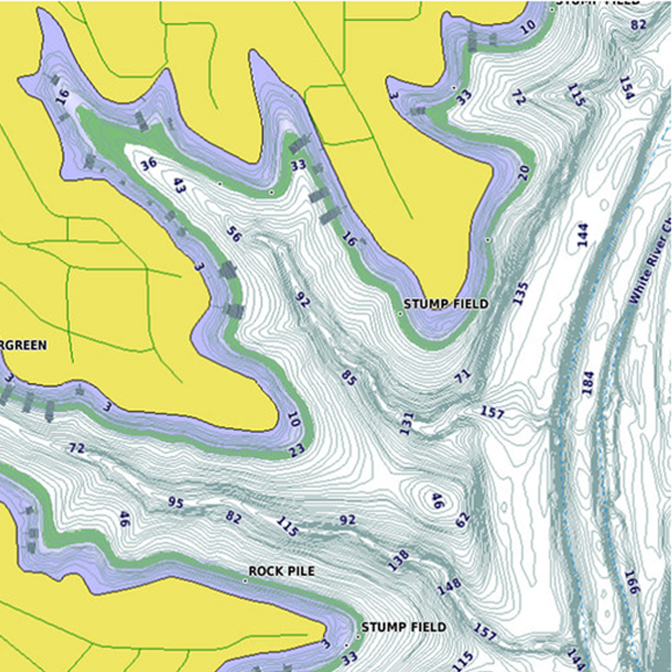 Move Views on 1 Screen
Customize your views on the ECHOMAP Plus 72cv screen, so you can see what matters. Create combination pages that include flasher, map and Panoptix views. The easy-to-use interface makes setup a breeze, so you can spend more time fishing.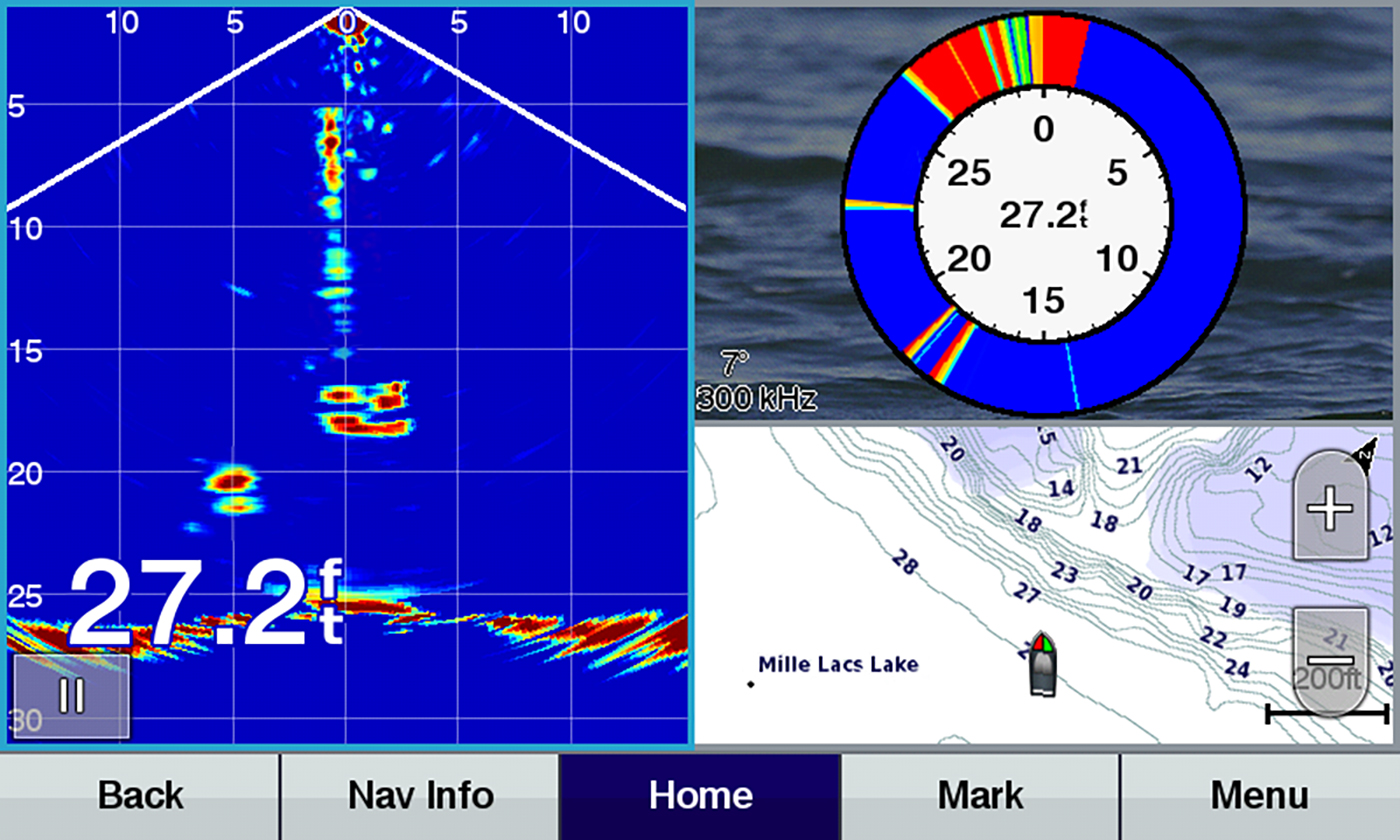 Take It Anywhere
The rugged, portable carrying case protects and carries all the pieces of the bundle, so you can just grab the sturdy handle, and head out for your next ice fishing trip.
Garmin is the first to bring 2 modes of Panoptix sonar imaging to 1 transducer for your boat. Panoptix all-seeing sonar is unlike anything you've ever seen on the water. It gives you the ability to see all around your boat and below it — in real time — up to 100' away.
This pole mount allows you to rotate your Panoptix PS22-TR LiveVü Forward and Down transducer, while under the ice, to locate fish around you.
Large Portable Ice Fishing Kit
This winter, go ice fishing with your large 9" STRIKER fishfinder or ECHOMAP combo. This ice fishing kit comes complete with a rugged, glove-friendly carrying bag to protect your device — a GT10HN-IF high narrow beam Garmin CHIRP traditional ice fishing transducer that provides precise fish and jig detection. The kit also includes foam float, grommet, battery, charger, power cable and built-in cable management and storage.
BUNDLE PRICE IS REFLECTED ON WHICH ECHOMAP YOU CHOOSE BELOW
Transducer Not Included, The EchoMap Plus 72CV has worldwide base maps
Bright, sunlight-readable 7" keyed-assist touchscreen combo
Built-in support for Garmin CHIRP traditional sonar plus CHIRP ClearVü™ scanning sonar and Panoptix™ all-seeing sonar (transducers sold separately)
Preloaded worldwide basemap; compatible with BlueChart® g3 and premium BlueChart® g3 Vision coastal charts with integrated Navionics® data and Auto Guidance¹ technology
Built-in Quickdraw Contours mapping software instantly creates personalized fishing maps on-screen with 1' contours as you fish
Use built-in Wi-Fi® to pair with the free ActiveCaptain™ app for access to OneChart™, smart notifications¹, Garmin Quickdraw™ Community data and more
Bright, sunlight-readable 7" keyed-assist touchscreen combo
Includes GT22 transducer for Garmin CHIRP traditional sonar plus CHIRP ClearVü scanning sonar; compatible with Panoptix™ all-seeing sonar (sold      separately)
Preloaded Canada LakeVü g3 maps with integrated Navionics® data cover more than 13,500 lakes with up to 1' contours
Built-in Garmin Quickdraw™ Contours mapping software instantly creates personalized fishing maps on-screen with 1' contours as you fish
Use built-in Wi-Fi® to pair with the free ActiveCaptain® app for access to OneChart™, smart notifications¹, Garmin Quickdraw™ Community data and more
EchoMAP Plus 75sv
Bright, sunlight-readable 7" keyed-assist touchscreen combo
Includes GT52 transducer for Garmin high wide CHIRP traditional sonar plus CHIRP ClearVü and CHIRP SideVü scanning sonars; compatible with Panoptix™ all-seeing sonar (sold separately)
Preloaded Canada LakeVü g3 maps with integrated Navionics® data cover more than 13,500 lakes with up to 1' contours
Built-in Garmin Quickdraw™ Contours mapping software instantly creates personalized fishing maps on-screen with 1' contours as you fish
Use built-in Wi-Fi® to pair with the free ActiveCaptain® app for access to OneChart™, smart notifications¹, Garmin Quickdraw™ Community data and more
EchoMAP Plus 95sv
Bright, sunlight-readable 9" keyed-assist touchscreen combo
Includes GT52 transducer for Garmin high wide CHIRP traditional sonar plus CHIRP ClearVü and CHIRP SideVü scanning sonars; compatible with Panoptix™ all-seeing sonar (sold separately)
Preloaded Canada LakeVü g3 maps with integrated Navionics® data cover more than 13,500 lakes with up to 1' contours
Built-in Garmin Quickdraw™ Contours mapping software instantly creates personalized fishing maps on-screen with 1' contours as you fish
Use built-in Wi-Fi® to pair with the free ActiveCaptain® app for access to OneChart™, smart notifications¹, Garmin Quickdraw™ Community data and more